Gitarrist
Willkommen auf meiner Webseite! Ich bin Thomas Holzhausen, Gitarrist und Musikpädagoge aus Berlin und stelle hier meine musikalische Tätigkeit vor. Informationen zum Instrumentalunterricht finden Sie hier: gitarrenlehrer-kreuzberg.de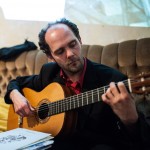 Gitarre solo
Ich biete ein anspruchsvolles und abwechslungsreiches Soloprogramm auf der Gitarre. Ob auf Hochzeiten, Geburtstagsfeiern oder zu anderen festlichen Anlässen: Der besondere Klang der klassischen Gitarre sorgt für eine ganz besondere Atmosphäre. Nach vorheriger Absprache stimmen wir das Programm gezielt auf Ihre Vorstellungen hin ab, ob Klassik, Latin, Tango oder Pop.
Ein Auszug aus meinem Repertoire
Duo Marcato
Das Duo Marcato, bestehend aus der Querflötistin Sorina Reichenbach und Thomas Holzhausen an der Gitarre, spielt anspruchsvolle und mitreißende klassische Musik aus mehreren Jahrhunderten. Gleich ob im Konzertsaal, als Dinner-Musik im Café und Restaurant, oder zur Untermalung ganz besonderer Anlässe, bietet das Duo Marcato eine anspruchsvolle Mischung aus klassischer Kammermusik, Tangos und Folklore aus Irland und Lateinamerika. Eine Repertoire-Liste findet sich auf unserer Webseite
Captain Zorx Stimmungsattacke
DiscoDeathMetal from Outer Space und Extreme Holodeck Rock, zwischendurch aber auch Puppenspiel, pulp novel und Improtheater. Besetzung: Patrick Kukwa (voc), Thomas Holzhausen (g), Jivan Schlag (b), Claudius Staudte (d). Zur offiziellen Zorx-Seite: captainzorx.com
Pressestimmen:
Als hätte Zappa statt "Joe's Garage" "Futurama" vertont. (Uncle Sally's 2011)
From time to time you come across a band that is completely crackpot that they should give up music and become comedians, such is the case of German 'Disco Metal' band Captain Zorx Stimmungsattacke and their album 'The Maps Of The Ancient Sea Kings'. Playing rock / metal in the style of Tenacious D, this unbelivable quartet are perhaps as wacky as Albert Einstein's hair. From the start to the very end, each song has it's own tongue-in cheek element and variation of music, thus begging the question are they System of A Down in disguise? Whoever the band is influenced by, it is a rarity and almost certainly a hidden gem in the underground German music scene. (Global Metal Apocalypse, 2013)
Gastauftritte / Projektarbeiten:
2014 – "Quatsch und die Nasenbärbande", Kinofilm von Veit Helmer, Kinostart am 6. November 2014. Mitarbeit am score mit Malcolm Arison: "Bossa Nase" und "Rondo Coatie/Strawberry Nasenbär" (soundtrack CD only) Arrangement, Recording, Einspielungen. Trailer
2012 – "School of Blues Harp – Blues Harp Motel" Songbook mit DVD von Hank Williamson (Malcolm Arison), erschienen bei PPV Medien (Song-Transkriptionen). Blues Harp Motel
2011 – "The boy who cried wolf", Dreiteilige Performance von Simon Fujiwara im Theater Hebbel am Ufer, sowie Abron's Art Center, New York (musikalische Gestaltung, Gitarre). Ein Video zu den Aufführungen in New York findet sich hier: Boy Who Cried Wolf
2008 – "Georg", Dokumentarfilm von Caterina Klusemann, Musik von Klaus Janek: Einspielungen klassische Gitarre.
2007 – Konzertreihe Einklang und Widerhall – Architektur und Musik im Dialog: "That time" von Wolfgang Fortner und "Drei Fragmente nach Hölderlin" von Hans-Werner Henze, mit dem RIAS Kammerchor im Leibnizsaal, Berlin-Brandenburgische Akademie der Wissenschaften (Gitarre)
2006 – "17′ler" von Taner Akyol, mit dem Landeszupforchester Berlin beim Eurofestival in Bamberg (Gitarre)
2006 – "Dichroic Seventeen" von Rebecca Saunders, mit dem Ensemble klangexekutive des Instituts für Neue Musik, in der HfM "Hanns Eisler", Neuer Marstall, Berlin (E-Gitarre)
Discographie:
2006 – Captain Zorx Stimmungsattacke: "Captain Zorx Stimmungsattacke"
2011 – Captain Zorx Stimmungsattacke: "Maps of the Ancient Sea Kings"
2011 – Campfire Jukebox: "When the walls begin to crumble"
2013 – Twisterella's Finest: "Hot Pot"
2014 – Duo Marcato: "Virtuose Musik für Flöte und Gitarre"
2014 – Captain Zorx: "Naked Zorx" EP
Past Projects / on hiatus:
Campfire Jukebox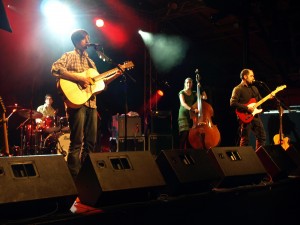 "After some wild party way back in the seventies the Jukebox was forgotten at the campfire, and since nobody pulled the plug, it keeps playing its songs all night. And it will keep playing until some unknown hero drops by to pull the plug because the music keeps him from sleeping." Georgetown und TC loten gemeinsam die Untiefen des Singer-Songwriter-Genres aus; stilistisch angesiedelt zwischen Country, Folk, Indie, akustisch oder gewürzt mit Loops und Beats. Zur Seite von Campfire Jukebox: campfirejukebox.
Twisterella's Finest
Twisterella's Finest – zwischen Badewannenmusik und Wassermelonenmix, zwischen Schubidu und Funk Punk tummeln sich unsere Helden. Nach langen, intensiven Versuchsreihen in der Studioküche ist es nun soweit: HOT POT, das CD-Debüt ist serviert! Twisterella's Finest sind Marica Uta (Gesang) und Thomas Holzhausen (was sonst so ansteht). www.twisterellasfinest.de
Merken